Personal Bits of Stefan Hagen

: : :
Abstract
... My name
Stefan Hagen. I am an OASIS Distinguished Contributor.
My name sounds spoken like:
[ʃtɛfaːn haːgən] or for starters:
#fun → ha Shta g fun Hagen Here is my personal place provided to others for easing collaboration with me as an Individual. I happen to architect, build, secure, test software and quality management systems these days and for a living.
Remember:
The "s" in software is for security, right?
I usually work with teams, changing things and the way we work through reviewing designs & source code and providing knowledge & a safe workplace.
I work for Pilatus (building aircraft in Central Switzerland) as Software Engineer in the Ground-Based Training Systems Unit. Before that, I worked for Cisco - mostly engineering security and quality into the Kinetic platform at the edge of the Internet of Things.
Please:
use my PGP key if you are in need of private communication with me;
note, that any opinions and thoughts conveyed are my own.
Topics of Interest
Questions & Answers: I rarely ask ;-). But, as I received quite some answers in my life already, I started answering questions from others. My user name on StackOverflow is Dilettant and there I also maintain my Developer Story.
Words and deeds is what I love to support with. In music making I am a proud Alice Baldwin
Courtney Swain
patron of Courtney Swain and Alice Baldwin. Why not become a patron yourself? Supporting those individuals that are willing to open up and share their creativity with us, does contribute to making our planet a more joyful and friendly experience, doesn't it?
Music:
Erich Lanzerath † (1950 - 2010)

Thomas Offermann:
↳ "Shut up and play your guitar - Frank Zappa"

József Eötvös Around 1977 I began learning how to play the guitar from the humble and always helpful . How to really make music a part of me I received like a gift from during our lessons in the 80's, when he taught me play pieces from Leo Brouwer, Frank Zappa, J.S. Bach and others on the guitar. After a longer "parental leave" - as of May 2016 - I am proud that I can now learn more and more music making from József Eötvös, the hungarian guitarist and author of the transcription of Bach's "Goldberg Variations" among others.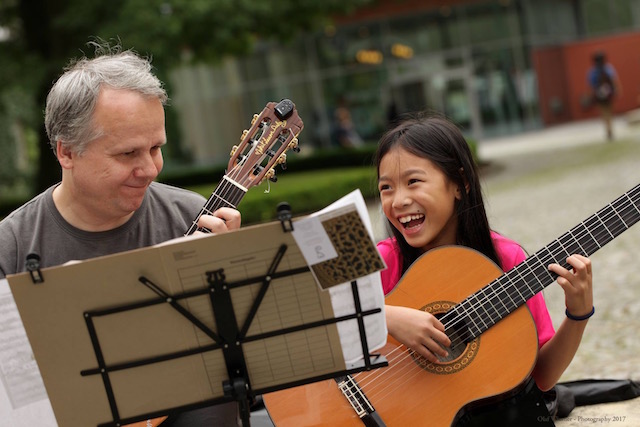 26th International Guitar-Festival Iserlohn 2017 30 years after my last public performance, the amazing Qianli Lyu a.k.a. Nicole gently persuaded me to perform again and as Duo partner together with her in the final concert of the 26th International Guitar-Festival Iserlohn 2017.
Dilettant makes music again:
Fading Bits Territory contains aging information - in case you want to look something up ...
---
Copyright and trademark rights The entire content of this website is protected by copyright.
All rights are owned by Stefan Hagen or third parties. Website elements are freely accessible for browsing purposes only. Multiplication of the material or sharing in any written or digital form is only permitted with explicit mention of this website URL. Without the previous written authorization by Stefan Hagen it is forbidden to reproduce, transfer, modify, link or use this website for any public or commercial purposes.
The various names and logos on this website are usually registered and protected trademarks. No part of this website is conceived in such a way that it constitutes a licence or a right to use an image, a registered trademark or a logo. By downloading and copying this website or parts thereof no rights regarding the software or elements on this website shall be transferred.